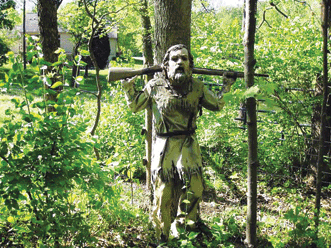 Carving on the trail near East Fork.
Chris McIntyre
Supervisor: Matt Patterson
•
51.8 Total Miles / 24.6 Off Road Miles (47.5%)
Map Publication Date: November 2012

This section starts along Grant Lake, and follows narrow country roads past numerous farms for about nine miles. After passing just southeast of the City of Williamsburg, the trail winds 23.5 miles through East Fork State Park, which is almost entirely off-road. The BT utilizes the Steve Newman Worldwalker Perimeter Trail, which provides challenging hills and beautiful views and scenery. The western part of the section finds increasing urban evidence as the trail nears Cincinnati. It passes through the city of Batavia, and along some more heavily traveled roads, before ending in Milford, where it joins the Loveland Section and the Little Miami Rail Trail.

Note: Consult with the East Fork State Park website for the latest alerts concerning trail closures, water levels, public hunting information, and campsite notices.






Milford
Milford is the first Buckeye Trail Town and is an ideal setting for day hikers and backpackers.  The city is located at the intersection of eight of America's long distance trails See below for list of these trails, which together total over 22,000 miles of hiking and biking opportunities. The Buckeye Trail winds through Milford's streets offering a pleasant way to explore the many facets of the town before you continue your trail adventure.  Two sections of the Buckeye Trail connect in Milford (the Loveland and Williamsburg sections), making Milford a perfect spot to camp, resupply, and recharge before moving on with your Buckeye Trail, North Country Trail, or American Discovery Trail adventures.
The eight long distance trails - Buckeye Trail, North Country Trail, American Discovery Trail, Sea to Sea Long Distance Hiking Route, Underground Railroad Cycling Route, Ohio to Erie Cycling Route, the Little Miami Scenic River, and the Little Miami Scenic Trail.

Milford offers a variety of features including a charming main street, hiker friendly shops and restaurants, attractive architecture, several camping locations for through hikers, an interesting history and the beautiful 130 acre Valley View Nature Preserve". The trail follows sidewalks through town, permitting access to the above mentioned features, including a very trail friendly outfitter store (Roads, Rivers, and Trails – a Buckeye Trail supporter that offers Buckeye Trail Association members a 10% discount by showing your membership card). The trail passes some lovely historical homes as it wends its way to the woods and trails of the Valley View Foundation. There is plenty for the hiker to enjoy.


There are three camping locations within the Milford area: Valley View, Riverside II Park, and Jim Terrell Park (which has an Adirondack type shelter). For the latter two locations a permit is required and there is a small fee. See the Milford Parks page for the permit info. Read more about Milford and the BT here.

Click here for a downloadable, printable PDF map.

Learn more by visiting http://www.milfordohio.org.
Google map of camping locations and recommended sites in Milford can be found HERE