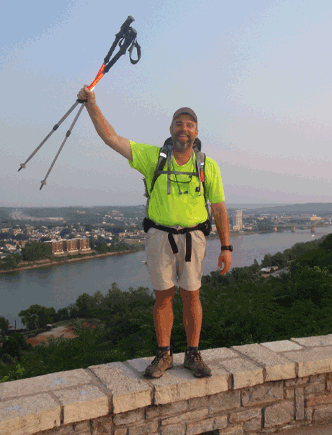 Thru Hiker Andy Niekamp reaches the
Southern Terminus of the BT.

Supervisor: Darryl Smith
•
46 Total Miles / 35.5 Off Road Miles (77.2%)
Map Publication Date: March 2012

The Buckeye Trail, from it's southern terminus at the upper overlook in the northeast corner of Eden Park in Cincinnati, to the intersection of US 50 and Wooster Lane in Terrace Park is on urban and suburban streets. This section leads you past some wonderful examples of mansions and churches that were built in the late 19th and early 20th centuries. From the intersection of US 50 and Wooster Lane to the end of the Loveland Section the Buckeye Trail follows the Little Miami Scenic State Park, a paved bike path located on abandoned Penn Central railroad right of way along the Little Miami River. Popular on hot summer days, the bike trail follows a rail bed first build in the 1840's as the Little Miami Railroad, named after the nearby river and not the size of the train! As the trail heads north, you pass through Camp Dennison, used as a Civil War camp by the Union Army. North of Loveland, the land gets less urban, though you can often hear the sounds of Kings Island amusement park near Foster. After passing through Morrow, the trail passes under the I-71 bridge and into the Caesar Creek section. The Fort Ancient prehistoric Indian earthworks and museum are adjacent to the trail near SR 350.