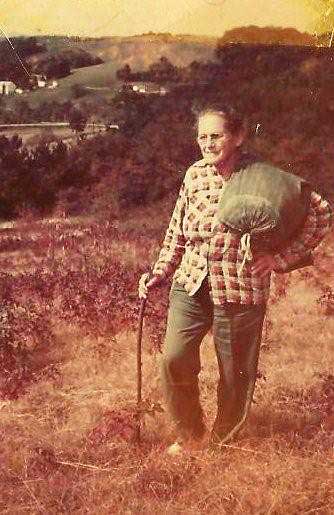 Photo courtesy of Marjorie
Gilliam Wood, Great-granddaughter
of Emma "Grandma" Gatewood.
Ohio's Hiking Great-Grandmother:
Emma Gatewood (1888-1973)
After raising 11 children on farms along the Ohio River and at the age of 67, the grandmother of 23 became the first woman to thru-hike the Appalachian Trail alone and in a continuous hike. That was in 1955. Two years later, she hiked the Appalachian Trail again and later completed a third hike of the trail in sections. She is known for her legendary Keds sneakers that she wore instead of hiking boots and the laundry sack that she used instead of a backpack. Many call "Grandma" Gatewood the first thru-hiker celebrity. She appeared on the Today show and numerous other programs. She inspired two distinct movements in hiking—long-distance hiking for women and the ultra-lite movement. She carried just a few items with her, each chosen carefully so they could perform multiple functions. Including food, water and equipment, she rarely carried more than 20 pounds.
GRANDMA GATEWOOD INDUCTED INTO THE 2012 APPALACHIAN TRAIL HALL OF FAME
According to the press release from the museum, these include: "Pioneers who conceived of and developed the trail; those who organized or directed major trail organizations like the Appalachian Trail Conservancy and the Appalachian Trail maintaining clubs; longtime trail maintainers; leaders who promoted and protected the Appalachian Trail; hikers who have made significant accomplishments, and other persons who have enriched the culture or community of the Appalachian Trail by their association with it."
EDEN VALLEY ENTERPRISES EMMA "GRANDMA" GATEWOOD PROJECT
Bette Lou Higgins, Artistic Director for Eden Valley Enterprises, has completed the first phase of a project about "Grandma" Emma Gatewood, a founding member of the BTA.
Emma Gatewood project links: