APRIL 20-22, 2018
Brought to you by the Muskingum Lakes Chapter of the Buckeye Trail Association, and Ohio Morel Hunters Tuscarawas County!
Come and Join us for a weekend of Hiking, Music, Food, Camping, and of course... Morels!!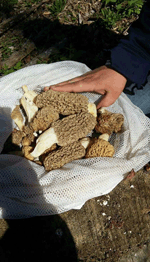 Location: BTA Century Barn near Deersville OH
Directions: Take I-77 to US-250 east (just south of New Philadelphia). Follow US-250 past Tappan Dam almost to the end of the lake. There is a causeway with a sign that reads "Tappan Lake Park". Turn right (this road would also take you to Deersville). Approximately 3.1 miles from the US-250 turnoff is Beall Rd. on the right. Follow this dead-end road (be sure to take the left leg not the right curve) and go a total of 1.3 mi. to where it ends at the BTA Barn down a long gravel driveway.
Registration: Registration fees this year will be $20.00 per Participant. Buckeye Trail members will be able to register for $15.00 per adult.  
Children 17 and under will need to register (free), but there will be a charge for them for camping, at $5.00 each per night. 

REGISTRATION CLOSED:
Morel Fest Registration has reached capacity and is now closed.
Camping: Camping is available, and camping rates are $5.00 per night, per person, including children.  Showers, restrooms and kitchen facilites are available to campers. Camping will be limited to 60 campsites. If you are going to camp, please use the registration link that will be provided soon, to guarantee your spot.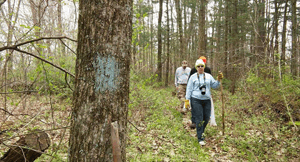 Morel Hikes: We will have 3 guided hunts over the weekend. Saturday's hunts will leave camp at 9:00AM, and return roughly at 3:00PM. We will be utilizing the Buckeye Trail for Saturday's hunt. Sunday's Morel Hunt will be announced soon.
Music: We will have music, in the BTA Barn on Friday and Saturday Night, starting at 8:00 PM. Friday Night will be the band Toolebox and the Crew, and Saturday Night will be the Tuscarawas River Band. Visit their web sites at https://www.facebook.com/toolebox/ and https://www.facebook.com/TuscarawasRiverBand/"
Meals: A Potluck Dinner will be held at the BTA Barn on Saturday,at 6:30 PM prior to the musical entertainment. Campers are encouraged to bring a covered dish, chili, casserole, or dessert for the Potluck Dinner.
Sunday will begin with a Free Camp Breakfast consisting of Pancakes and sausage. Breakfast will be served at 7:30 AM.
Chef: Camp Chef is Julie A. Powell, owner of More than Morel Mushrooms LLC. On Saturday afternoon from 4:30-6:00PM, Julie will be preparing dishes with Morel mushrooms as the focus of her dishes.
Food Vendor: The food vendor for the weekend is Shan Jo's Brunch Box. She will be setup on Friday, prior to opening the gates and will be in attendance for the event. People will have the option to bring their own food or choose to purchase food from her food truck. Visit the Facebook page at https://www.facebook.com/groups/802859206456472/about/
Date Alternate: May 4 thru 6 will be the secondary date for this event, depending on weather patterns, and Progression of the Morel as it makes way North to Ohio.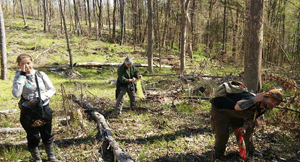 Vendor Info: Anyone wanting to become a Vendor at Morelfest, fees will be $50.00 for the weekend, plus $5.00 per night to Camp. Please message us for more information
Additional Info: https://www.facebook.com/More-Than-Morel-Mushrooms-493850300663804/
Contact: Muskingum Lakes Chapter at