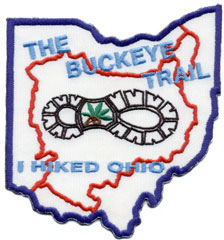 WHAT IS IT? A patch for any hiker who has completed the entire Buckeye Trail.
HOW DO I GET A PATCH? By hiking the Buckeye Trail, of course. After finishing the Buckeye Trail, fill out a questionnaire and a patch will be sent to you in 10 business days.
CAN I GET MORE THAN ONE PATCH? The first patch is free; any extra patches are $3.00 each.
WHO IS ELIGIBLE FOR A PATCH? Any person who has completed the Buckeye Trail any time in the Buckeye Trail's history. As long as you finished the entire Buckeye Trail, no matter what its length was when you finished.
WE WANT TO KNOW! BTA is interested in people who have hiked the whole Trail. Please download the questionnaire, complete the form, and mail it to Dana Zintek to receive your patch.