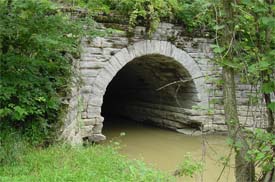 Little Flat Rock Creek Aquaduct near Pt 23
Sam Bonifas
Supervisor: Sam Bonifas
•
46.5 Total Miles / 22.7 Off Road Miles (48.8%)
Map Publication Date: September 2016

The Buckeye Trail starts this section on the towpath of the Miami-Erie Canal, between the old canal and CR-66A. Shortly, you will pass through Deep Cut Park, a 6,600 foot long, 50 foot deep cut made entirely by hand. Laborers were paid 30 cents per day plus a jigger of whiskey. The trail continues on the towpath through the town of Spencerville and on to Delphos. Lock 24N is located at Stadium Park in Delphos near Pt 8. Beyond Delphos, the trail generally follows the route of the canal through the Auglaize River valley. Loramie Summit is the high point of the canal between Cincinnati and Lake Erie. At the north end of the Loramie Summit is the town of New Bremen, where Lock 1N is located. This portion of the Miami Extension Canal, was completed in 1845. It later was re-named to become the Miami and Erie Canal.
Much of the northern half of the section follows county and township roads, ending in the town of Junction.
On Sept. 21, 1812, Col. William Jennings, with his regiment of Kentucky riflemen, was ordered by Gen. W. H. Harrison to cut a road from Fort Barbee at St. Marys to a point midway between that place and Defiance, and there establish a fort. The post was completed on this site in October, 1812, and named in honor of its builder.
The road begun by Col. Jennings was later extended to Fort Winchester (Defiance, OH) by Col. Poague, builder of Fort Amanda. The Auglaize River Valley then became a major supply artery for Harrison's army, operating to the Northwest. By boat and wagon in the summer and by sled in winter, troops and large quantities of army stores were moved through here to the scenes of the major actions.