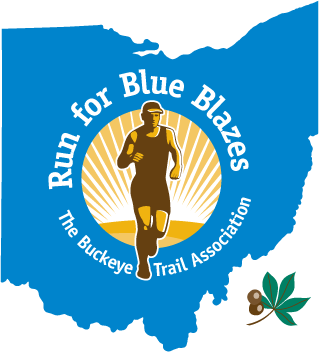 4th Annual
Buckeye Trail Run for Blue Blazes - 2018
Full Marathon • Half Marathon
• 10K Run • 5K Run
Run for Blue Blazes is organized by the Buckeye Trail Association (BTA) and supports the work of the Buckeye Trail. The BTA is a 501(c)3 non-profit charitable organization dedicated to building, maintaining, protecting and promoting use of Ohio's longest scenic hiking trail for the health and fitness of our citizens, communities and partners.

All money raised is tax deductible and goes to protect the trail.
Buckeye Trail Run for Blue Blazes - Saturday, October 6, 2018
WHERE: The races start and end in downtown Shawnee near the BTA Office - 127B West Main Street, Shawnee, Ohio 43782
RACE DESCRIPTION: Participants can choose from four distances: Marathon (26.2 miles), Half Marathon (13.1 miles), 10K (6.2 miles) and 5K (3.1 miles). New this year, both the half and full marathon races will be on an out and back course, which will include new sections of the Buckeye Trail. The course goes through hilly and challenging sections of the Wayne National Forest. The new course will be mostly on single-track trail of the "Blue Blazed" Buckeye Trail. The half and full marathon has over 1056 feet of elevation change.
RACE STARTS: There will be wave starts with the Marathon starting at 8:30AM, followed by the Half Marathon and then the 10K & 5K race. Awards will be given to the top overall male and female finishers and age group top finishers 19 and under, 20-29, 30-39, 40-49, 50-59 and 60 and over.
REGISTRATION: Visit https://runsignup.com/Race/OH/Shawnee/RunForBlueBlazes to register for the race.
RACE PACKETS: Participants can pick up their race packet at the Tecumseh Theatre, 114 W. Main Street, Shawnee, OH. as follows:
EARLY Packet Pickup: Friday, October 5, from 4:00PM-7:00PM
RACE DAY, 6:30AM-8:30AM
AFTER THE RACE: After the race participants can enjoy food prepared by the BTA Chuckwagon cooks. This is the same chuckwagon used by the BTA Trail Maintenance volunteers who work from early spring to late fall building and maintaining the Buckeye Trail throughout the state of Ohio.
Volunteers
If you would like to volunteer to assist with this event, please contact the BTA Volunteer Coordinator, Barry Unger, at
CONTACT: For more information, contact Herb Hulls at
A BIG THANK YOU TO ALL OUR SPONSORS
Sponsors allow us to provide a reasonably priced event to all participants. We could not do this without you and appreciate your willingness to support the Buckeye Trail. Contact Herb Hulls at for sponsorship information.
LODGING
MOTELS IN ATHENS, OHIO
Holiday Inn 740-592-4640
Fairfield Inn 740-589-5839
Hampton 740-593-5600
Knights Inn 740-593-5567
Super Eight 740-594-4900
Baymont Inn 740-594-3000
Sunset Motel 740-593-3302
Days Inn 740-593-6655
Highlander Motel 740-593-6449
University Inn 740-593-6661
Hometown Inn 740-594-2294
MOTEL IN NEW LEXINGTON, OHIO
Relax Inn 740-342-3505
B & B'S
Wildwood Inn 740-380-3403
Meadhouse 740-596-2408
Lodge
Burr Oak State Park Lodge 740-767-2112



Camping
Burr Oak State Park 740-767-2112
RV & Tent Camping at Tecumseh Lake, 1/4 mile from BTA Office in Shawnee, OH