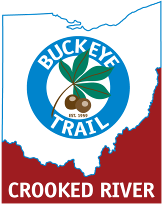 Inaugural 2017
The Little Loop Challenge
To Collectively Hike the 250 Mile
Buckeye Trail "Little Loop" in a Day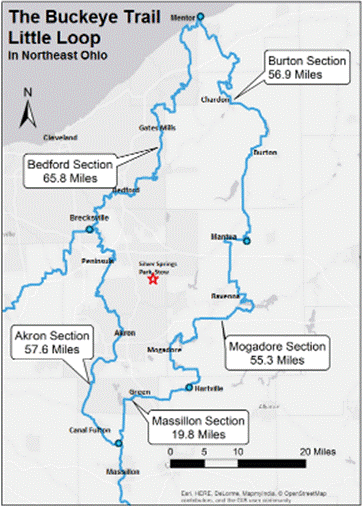 WHO: The Buckeye Trail Association (BTA) in cooperation with the Crooked River Chapter and all hikers, walkers, and runners who want to participate in accomplishing this feat. We need you!
WHAT: We endeavor to hike the 250 mile Little Loop of the BT in one day! The BT Little Loop will be divided into 77 segments. We need 70 to 100 hikers to sign up to hike one or more segments that day.
WHEN: Saturday, July 15, sunrise to 6:00pm
Post-hike BBQ 6PM-9PM
WHERE: Headlands Beach State Park to Crystal Springs Park on the Buckeye Trail (Mentor to Massilon)
Post-Hike BBQ: Silver Springs Park, Lakeview Picnic Shelter, 5027 Stow Rd, Stow
WHY: To hike and promote the Little Loop of the Buckeye trail, Ohio's State Scenic Trail and a legacy for present and future generations, and to earn a commemorataive patch.
COST: Registration packages available from $10-$60.
Deluxe package includes a Buckeye Trail Section Map, wicking T-shirt, BBQ dinner, and annual membership to the BTA.
WAIVER: Please read the Liability Waiver before you register.

REGISTRATION PROCESS:
Register here, choose your Little Loop Challenge Package, if applicable choose a BT Section Map, LLC T-shirt size, BBQ Dinner, Add additional hikers, etc.
Follow this link to view the LLC google map of the generalized hike segments and parking areas.
Follow this link to view the list of LLC hike segment assignments to see what is still available.
Fill out this online form to choose one or more segments that you would like to hike.
Wait patiently for up to 48 hours for a BTA Crooked River Chapter Volunteer to confirm your hike segment assignment.
Organizing a first ever 250 mile segmented group hike can be a little confusing, if you have any questions please contact the Crooked Rivers Chapter at or (440) 363-0484.
Thank you for helping hike the entire Little Loop of the Buckeye Trail in one day! Be sure to join your group at the post-hike BBQ, 6pm, Silver Springs Park in Stow.

CONTACT: For more information please read our FAQs
or visit https://facebook.com/LittleLoopChallenge/
or email: with "LLC Inquiry" in the subject line.

Share the Little Loop Challenge Poster with a friend!